Cleaning Melbourne offers carpet and upholstery cleaning services to commercial, industrial and residential spaces across Melbourne.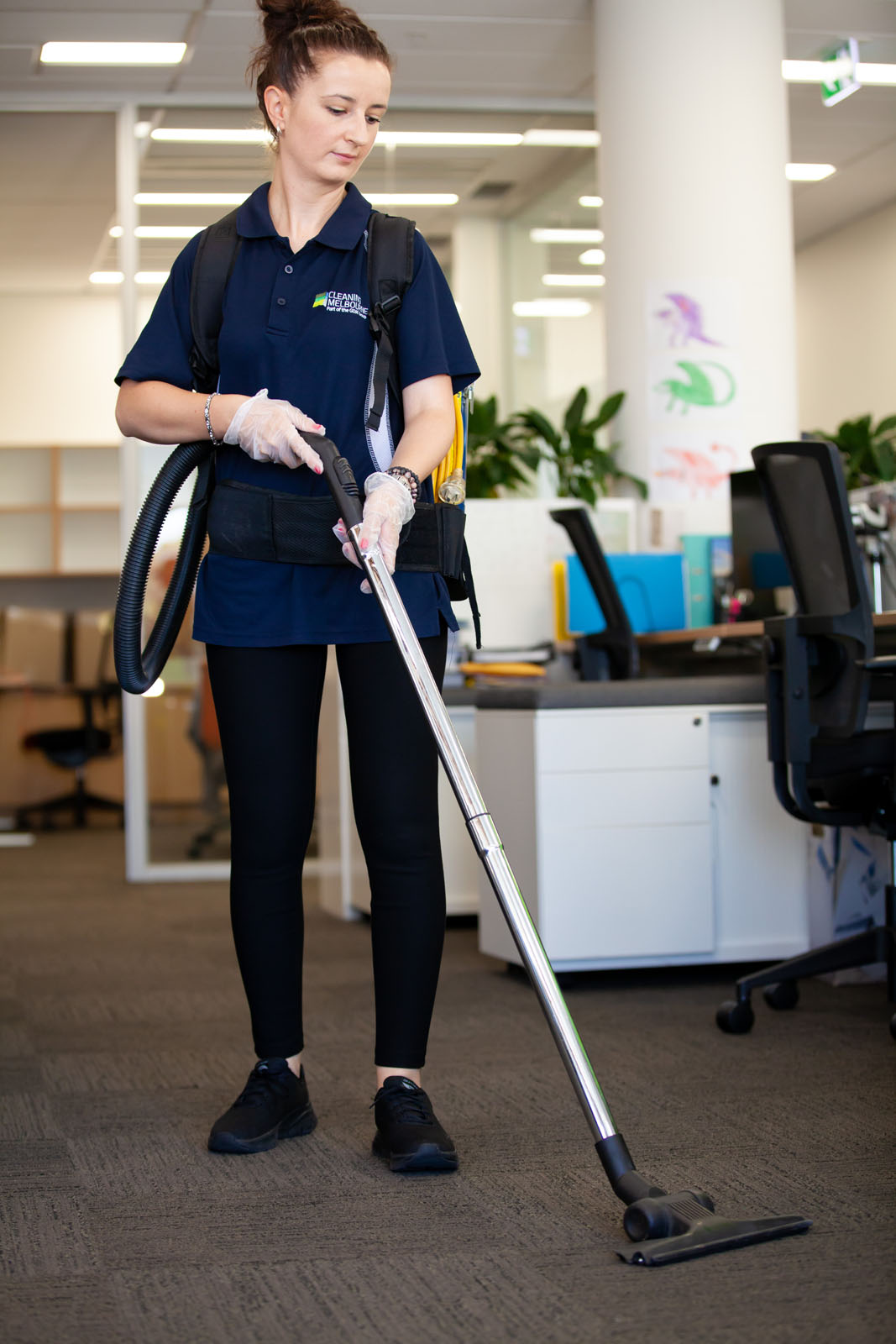 Carpets can attract a lot of dust and dirt. On top of spills and accidents, just everyday foot traffic can introduce a range of dirt and debris that your carpet absorbs and hides from view. Over time, this can result in foul smells as well as harmful bacteria growing and thriving in your carpet. Having clean carpets is not only visually appealing but essential to minimise dust and allergens and at worst harmful mould spores and airborne bacteria. Contact us for regular vacuuming or commercial carpet steam cleaning today.
COVID Cleaning Services
The demand for sanitary workplaces and unique COVID cleaning services has gradually grown. Ever since COVID-19 emerged and started impacting our day-to-day lives, we've been adapting our cleaning services to account for it. This includes COVID-safe cleaning training for every staff member as well as thorough communication training.
We know that COVID cleaning services will vary depending on your workplace's specific needs. This is why we take the time to work with you and develop a cleaning checklist and plan that suits your individual requirements. By utilising the most sanitary, hospital-grade practices in combination with a bespoke cleaning checklist for your commercial space, you can rest assured that your COVID cleaning needs will be met.
Our commercial carpet cleaning services include: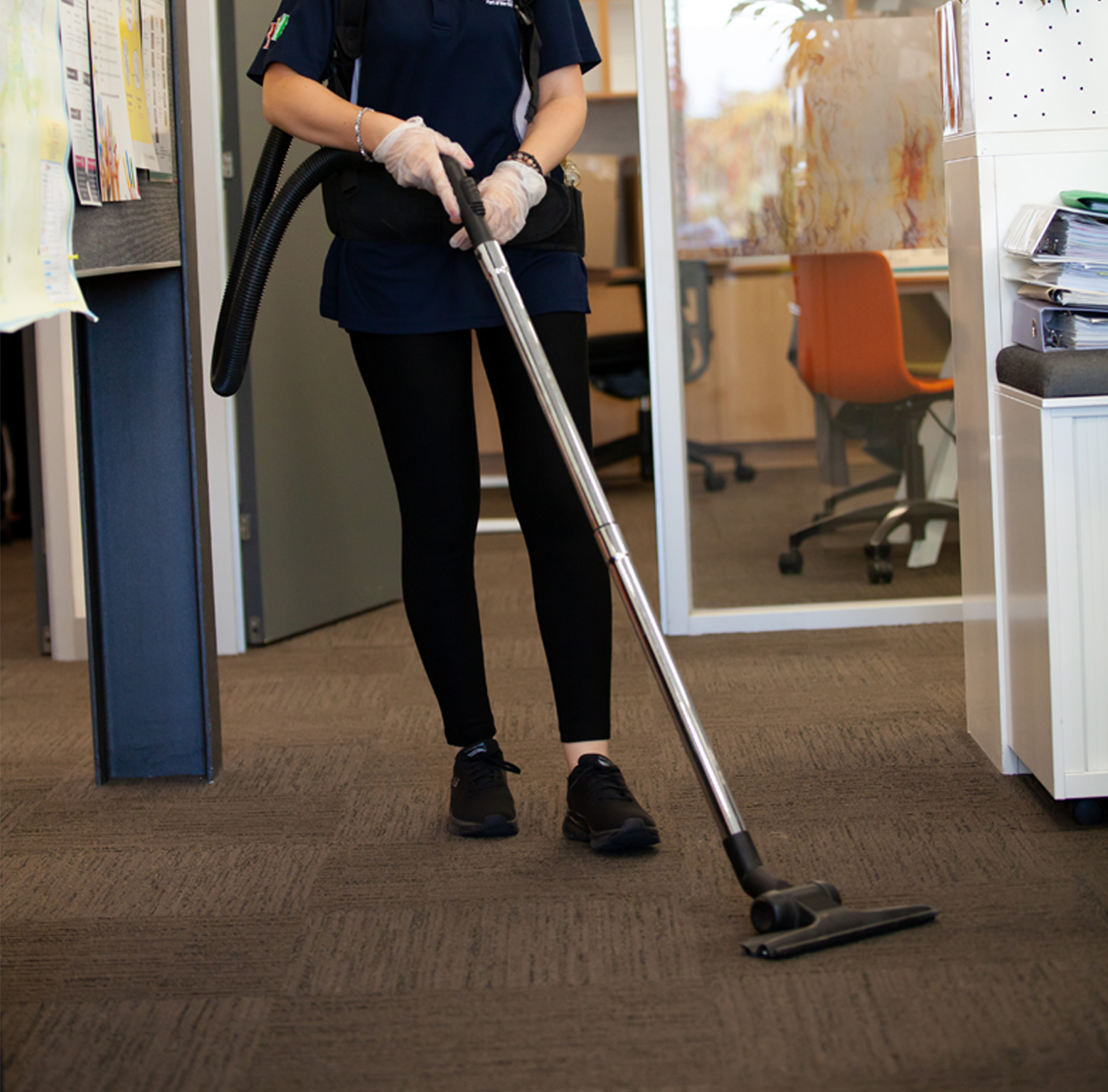 Regular Carpet Cleaning
For corporate spaces, school classrooms, clinics, retail shops, and more, regular carpet cleaning is essential. It stops dust and allergens from building up and impacting the health and wellbeing of both your customers and workforce. The best commercial carpet cleaning service for regular maintenance is our vacuuming services that ensure your workspace floors are dust-free.
Regular Carpet Cleaning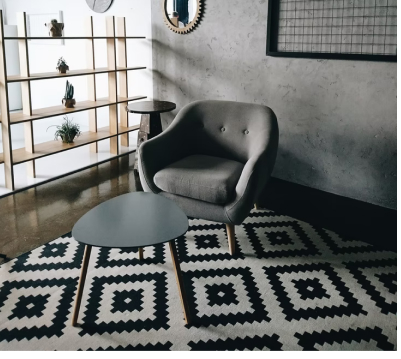 Carpet Steam Cleaning
For carpets that have seen better days, our experienced team can help with commercial carpet steam cleaning. This service provides a thorough, deep clean by steaming your carpets and drawing out deep-rooted germs and dirt. If your carpets haven't had regular cleaning we recommend this as an initial service, followed by the occasional steam clean throughout the year to keep your carpets fresh.
Carpet Steam Cleaning
Carpet Stain Removal
Looking for carpet stain removal? Our commercial carpet cleaning in Melbourne can target and eliminate carpet stains. Using safe and effective techniques, our team of experienced carpet cleaners know how to remove the most common stains so that you can keep your existing carpet and not waste money on a replacement due to just one stain.
Carpet Stain Removal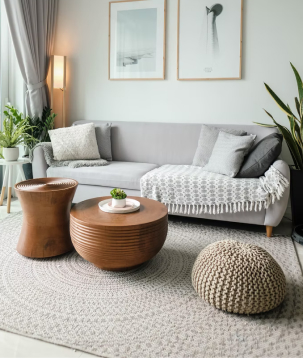 Upholstery Steam Cleaning
Does your commercial space have upholstered furniture? Just like carpets, upholstered furniture can attract dust and dirt over time and omit nasty smells, allergens, and bacteria into the air. Prevent this with steam cleaning. Our professional upholstery cleaners will ensure that your furniture is fresh and clean for customers and employees to relax on.
Upholstery Steam Cleaning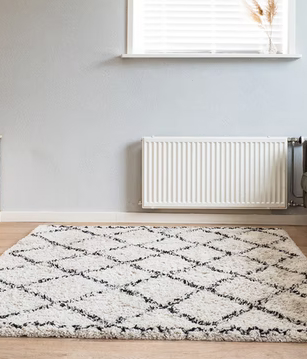 Rug Cleaning
As well as wall to wall carpet cleaning, we also offer rug cleaning services. No matter the size, style, or state of your rug, our cleaning crew can maintain it with regular cleaning, remove stains, and deep-clean your rug with commercial carpet steam cleaning.
Rug Cleaning