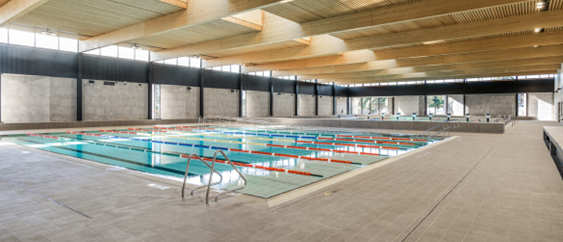 Cleaning Melbourne has extended its partnership with Clublinks Management to deliver cleaning and hygiene services for the brand-new Northcote Aquatic and Recreation Centre, along with four other venues in Darebin.
Services at the venue will include:
General Cleaning
Periodical Maintenance
Sanitary and Hygiene Services
Built with community at the heart of its design, Darebin's new innovative, state-of-the art Northcote Aquatic and Recreation Centre (NARC) opened its doors to the public on Monday November 13, 2023.
The facility boats  a 10-lane 50m heated pool and nature-based splash pad, Indoor eight-lane 25m heated pool, learn to swim pool, warm water pool with integrated spa, aquatic play area with water slides, and steam/sauna facilities. There is also Fitness and wellness facilities which include multi-purpose spaces for group fitness and reformer Pilates, an 800m2 fitness centre, and consulting rooms for allied health professionals.
The new Centre is a 6-Star Green Star design rated facility, which is the highest rating possible in the Green Building Council of Australia's sustainability rating system. This brings together a collective approach and commitment to responding to the climate emergency between Darebin Council and Clublinks which Cleaning Melbourne will support with its delivery of Green Cleaning and sustainable practices.
Cleaning Melbourne is excited to extend it's partnership with Clublinks which already includes service delivery across a number of Clublinks Managed sites in the region including: The brand new Narrandjeri Stadium, Darebin Community Sports Stadium, Bundoora Park Public golf Course, Northcote Public Golf Course. Cleaning Melbourne has also extended its affiliation with  Centenary Park Golf Course .

Cleaning Melbourne's CEO and Managing Director, David Gagovski, described NARC as a wonderful facility and exciting for the community to have such a brilliantly designed and beautiful facility to encourage people to be active and increase participation in the community.
"Cleaning Melbourne is privileged to be awarded the contract for such an important venue and we are excited about supporting the operations and service delivery of our valued clients in Clublinks. We are developing a wonderful partnership with the team and are confident of delivering the excellence in service standards that is expected by all involved" David said.
"We have a commitment to innovative, efficient and sustainable service offerings and we are confident that our CARE approach will not only support the service delivery but will also be a pivotal factor in ensuring Northcote Aquatic and Recreation Centre and all venues within Darebin are great venue's to work visit and play".
Clublinks Group Manager Troy Walker said Cleaning Melbourne's commitment to sustainable practices was a standout.
"Cleaning Melbourne lead from the front in understanding the uniqueness of what NARC and all the facilities required when it came to cleaning and hygiene services. Having two venues under management now which are 6-star energy rated, means we needed to partner with a company who can be innovative, and maintain high levels of environmental responsibility".